When it comes to real estate, it's all about location. But when it comes to staging a home to sell it for the highest possible price, the importance of location applies to more than just the street. According to the most recent data from the National Association of REALTORS® (NAR), 40% of agents cited that home staging had an effect on most buyers' view of the home. What's more, a massive 83% stated that staging a home made it easier for buyers to visualize the property as their future home.
The takeaway here? The placement of your furniture and accessories can make or break a room, and potentially even a sale. So while interior decorating may not be your strong suite (or even an item on your home selling to-do list), staging sure has its benefits. To help you tackle this like a seasoned home staging expert, here are some dos and don'ts to remember.
These are the pitfalls you'll want to avoid when staging a home.
There's a lot to consider when it comes to selling property, and this list only scratches the surface with staging. While it's understandably hard to know where to start, there is one thing you can do early in the process to put yourself ahead. Choose an experienced local realtor. Their expertise and resources will save you time, money, and effort when deciding what to prioritize as a home seller. Next, watch out for these potential pitfalls.
Don't obsess over every single room.
The NAR survey mentioned earlier found that staging the living room was most important for home buyers, followed by the master bedroom, and finally the kitchen. While your home may have plenty of rooms to show off, you'll want to focus your attention on those three first. Leave the rooms that have less influence like the office, guest bedroom, and mudroom for last.
Don't be afraid to get some help.
Staging can involve a lot, from tons (and tons) of cleaning to furniture rearranging, all the way to landscaping. This can be daunting for even the most serious of DIYers. As such, if you can afford it and would rather avoid the manual labor, there are professional home stagers out there for your convenience.
Don't focus on the amount of furniture.
You may be thinking that you have too much furniture and need to get rid of some. Or alternatively, that you don't have enough or the right type of furniture to appeal to potential buyers. However, the real key isn't in the amount or even the quality of the furniture. It's in how to strategically place it to make the strongest impact.
Moving on to the things you can do to help you in staging a home.
If you don't already have a checklist to help you sell your home, make sure to put one together. That's because in addition to staging, you'll want to keep track of all the necessary renovations that'll give you the most bang for your buck. Now, back to staging.
Do give each room a purpose.
Think about the function of each room, as this will help you arrange the furniture to suit the space. Does the room have a focal point that can be highlighted? You want each room to be self-explanatory to reduce any mental gymnastics for potential buyers.
Do add some fresh and light touches.
Small touches and details can make a big difference. True, decluttering the home, doing a top-to-bottom deep clean, removing any pets during a showing, and cleaning the carpet are all must-haves. But highlighting natural light and introducing some plants and cute accents are what will make your home stand out.
Do create a budget for your staging expenses.
The median dollar value spent on home staging in 2019 was $400. Even if you're doing most of the work yourself, there are still some costs that can't be avoided. One such cost in particular is making sure to get professional photos/videos taken. After all, you wouldn't want all of your hard staging work to be poorly represented digitally, right?
Ultimately, there's no arguing that staging works.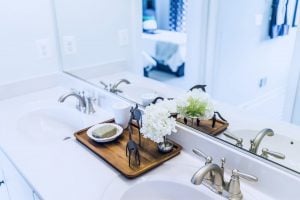 Not only does it increase the value of your home, it can also reduce the amount of time your home sits on the market. The look and feel of a space hinge on the way the various items in that room are positioned. If you put them in the wrong place, you can instantly diminish the overall appearance of the area – regardless of whether the individual items are stylish and on-trend. Good placement however will have the opposite effect, to the point where even less attractive furniture located correctly around the room can produce amazing results.
Here at Raboin Realty, we know what matters to buyers. Based on your unique situation, we'll help you prioritize where to spend your time and money to get the best return.
Call us at (701) 543-2200 or email

[email protected]

.