Fall is officially here. If you suddenly found yourself sharing your space with a student attending school virtually, odds are that you're rethinking your work-from-home setup and routine. Same space, more people with different schedules, and habits to accommodate.
You probably read more than your fair share of articles on remote work earlier this year, like how to make working from home feel more productive and creative setups to help you work from anywhere. Hence, we're going to skip all of that and focus instead on how you can update your workspace to help everyone stay motivated and productive together!
#1. Reassess your home internet needs, and upgrade your router and bandwidth if needed.
This tip is first on the list for a reason. It might be tempting to think that everyone has been home for a few months now anyway, and nothing needs to change. But beware! When you add virtual classes and webinars to your mounting pile of Zoom meetings, you're looking at a lot more strain on the ol' wireless connection.
Make sure that it not only facilitates everyone working uninterrupted and at reasonably fast speeds, but that it can withstand the full force of the family's preferred form of entertainment too. That could range from streaming a family movie at the end of a long work/school day to having your hours-long Spotify playlist in the background all day, every day. Either way, your internet connection is what helps you get things done – and perhaps more importantly, keep your sanity. Protect it.
#2. "Location, location, location" doesn't just apply to real estate.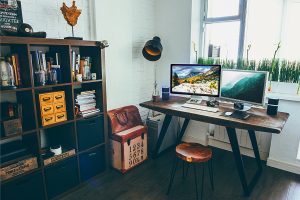 We're going to assume that you listened to the sound advice on selecting a workspace with good airflow, large and bright windows, that's far away from high-traffic areas, and has a door that can fully shut. Well, what if there is only one of those spaces in your home? What's a poor student to do? Why share your space of course!
OK, hear us out. Having someone in your home office could substitute for the feeling of being around coworkers. It'll force you both to put pants on, and might even create a bit of accountability to help you snap out of distractions. Plus, it doesn't take much to upgrade an office space into a "work and study" space. Need some inspiration? Here are a few charming homework and study stations. That actually brings us to Tip #3…
#3. Set up a schedule and discuss boundaries with your loved ones.
We all know sharing is caring, and that's great. In a practical sense though, there's greater potential for conflict and frustration when sharing a space for the first time or in a new way. You'll want to ensure you're communicating with each other about your schedules and the "rules of engagement" for the common workspace. Do you absolutely hate clutter, even in your peripheral vision? Is having an open window the best way for your student to focus? Do you both have big presentations on the same day of the week?
There are countless advantages to being deliberate about schedules and boundaries. When you're on the same page, you can make compromises. For example, by alternating workspaces if one of you needs the closed-door more than the other. You can be more efficient, maybe by staggering your breaks for much-deserved "me" time. It could even help you establish rituals that will bring you closer together, like an end of day walk. Ultimately, it will help ensure everyone has the space they need and the support they want.
#4. Adjust your work/study area so it's comfortable and practical for how you both work.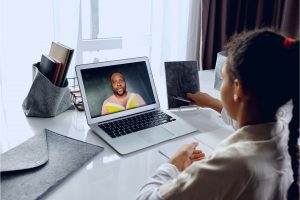 This tip works even if your home has all the space in the world, and you and your favorite student aren't actually sharing. The key here is to experiment and be flexible. Just as it took you some time to figure out your optimal routine when the pandemic started, it'll take time to understand how best to study and work at home.
Try a few different things and don't get too attached to any one thing in particular. You can start by setting up an inexpensive chalkboard or corkboard if analog is your thing. Or maybe you kept that standing desk you never used, and don't mind lending it out for a test run. While you're helping to optimize the study area, you may actually discover new things that can help you spruce up your work station too. And speaking of shopping…
#5. You'll want to invest in the best equipment to avoid a nasty surprise later.
Most of us put a lot of thought into the electronics we needed when we realized we'd be working remotely for a while. Well, it's time to do it all again – but this time for your student! Chances are, their trusty 2013 laptop won't last long with this level of intense use, and you definitely don't want it conking out halfway through a major assignment.
Think strategically by futureproofing all the equipment that will be experiencing some overuse. We're talking about your main work electronics, of course, but also your entertainment-slash-relaxation-slash-life devices, and even your coffee machine.
Bonus tip: give yourself permission to make mistakes with this process.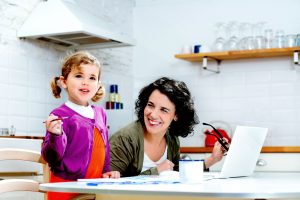 We're all learning on the fly here, so let go of the idea of having the perfect work and study space right away. It'll only be one more distraction you don't need right now. That's not to say you shouldn't aim to have your space exactly as you like it, eventually.
If it's more than just incredibly high standards playing tricks with your mind and your workspace really doesn't work for you (see what we did there?), consider making a change.
Get expert help and advice from Raboin Realty to find that perfect space. Call us today at 701-543-2200.
Check out Part 2 of the Top 10 Tips to Productively Work And Study From Home This Fall!