Homeowners and potential buyers know this: the perfect home just doesn't exist. Every house you see will always have something you love and something you don't. Maybe even something you can't stand. Is there anything that could make you change your mind about such a home? Could art be the thing that does it?
We sat down with emerging visual artist and entrepreneur Whitney Roberts of Whitney Leeana, an aesthetic brand that focuses on empowerment and uplifting underrepresented groups within the arts. As an artist, Whitney specializes in abstract paint on canvas for personal and commercial use including in staging homes for sale. And recently, after a determined search, her and her partner finally found the perfect home for themselves, their dog Chloe, and of course, Whitney's art studio.
"Art can absolutely change how a person feels about a home. Having a space that you don't particularly enjoy or feel is representative of who you are—for new homeowners especially, that can be an incredibly negative feeling."
For Whitney, one of the things that stands out when entering a home for the first time is the way that it's put together and decorated. Beyond the art hanging on the walls, there was an overwhelming feeling of comfort and openness in the home that eventually became The One for her.
"[The homeowner's] decor was something that stood out so profoundly to me that I actually wrote her a personal letter, letting her know that I could feel the love that she had for her home in how she decorated it."
And she's uncompromising on this point: there's a strong difference between a home that is decorated for others and one specifically decorated for those who live there. The key, however, is in marrying beauty and function in a way that fits you and your lifestyle.
You have some stunning items in your home that work both as art and functional pieces. How easy is that balance to achieve for most people?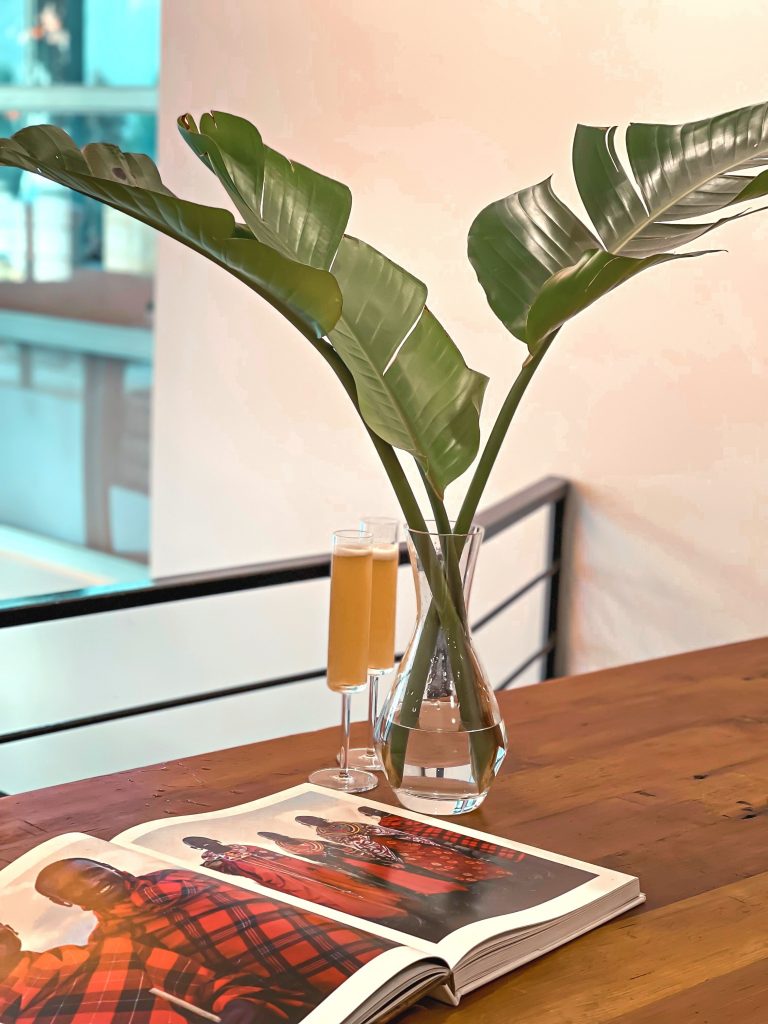 There is nothing better than pieces that are both functional and aesthetically pleasing. Vessels are probably my go-to pieces, because I just love fresh cut flowers. Sometimes I'll take an interesting drinking glass and put some flowers in it. So what if that's not really a vase? It's something that works for my home and my taste, which also makes it a little more unique. I do this with beautiful and uniquely shaped decanters too, which are meant to decant wine but are also wonderful for fresh fruit juice when you're hosting brunch. I always get compliments on how interesting my "jugs" are. The secret is, I've just repurposed a good old-fashioned decanter!
This is something that anyone can accomplish in their own home with, say, a sofa. Everyone has some kind of sofa or couch in their home, right? You can find any number of artists online who print artwork on furniture covers. Use those unexpected or funky prints to reupholster your sofa. This immediately adds an element of art to your living room. Again it's about adding your own personal touch, which turns something "common" into a statement or signature piece in your home.
So if you had to pick just one, what's the best piece of furniture that homeowners can use to showcase their artistic style? Would you say it's the sofa?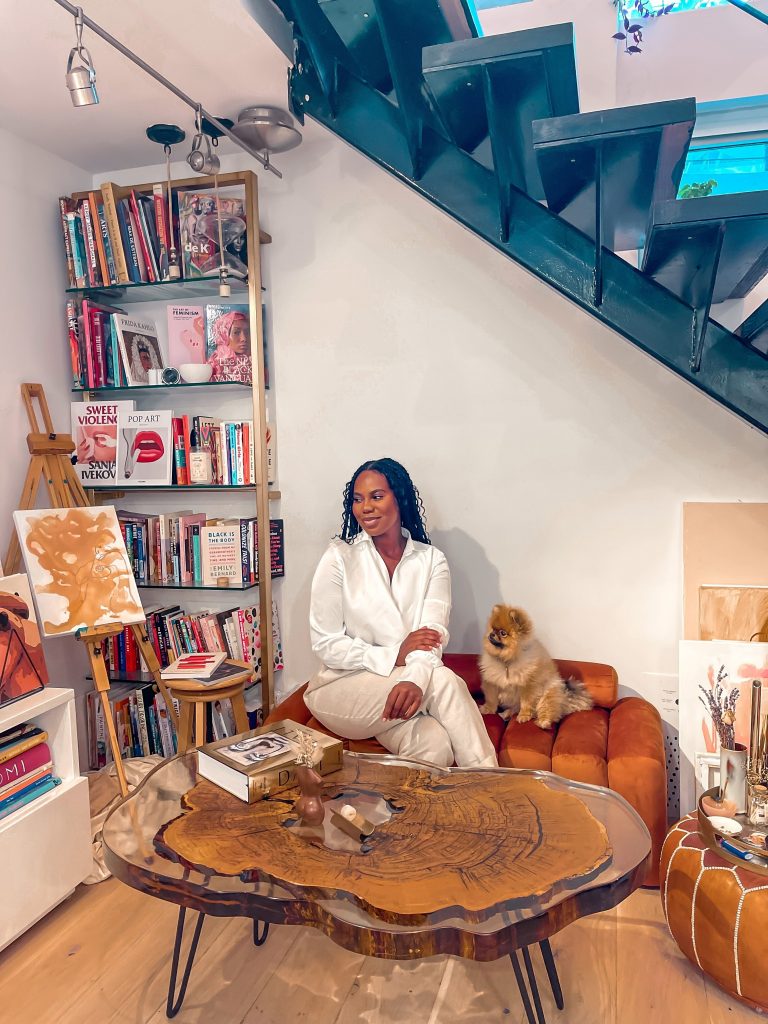 A lot of people don't put much thought into their coffee tables, but those can also be really fun! I currently have two coffee tables in my home, a gorgeous Italian live edge travertine table and an interesting live wood and resin piece in my art studio—both curated from Etsy. Coffee tables are a great way to show off your style while allowing you to stay neutral or more muted with the surrounding furniture. The key is to use your coffee table as the centerpiece and define the rest of the space based on that
Throw pillows are good too. That's pretty easy to do, especially if you don't want to make that leap and get your entire sofa reupholstered. Instead, start small by getting art printed on some throw pillows—it's a fun way to add flair and art to the space without splurging on larger furniture pieces. Low commitment but high impact, because the covers are usually removable so you can change your mind without too much hassle.
Some people don't necessarily see themselves as artsy… I know I don't! Do you have any quick tips or tricks for homeowners who don't feel confident in their own artistic perspective?
I definitely understand how that can be a little daunting and even intimidating. My recommendation would be, take some inspiration photos with you while shopping around. You can say to the person working in the shop, "hey I'm looking for something that looks similar to this, could you help me find an item in the store that's in line with this aesthetic that I'm going for?" That's way less scary than roaming a big furniture or decor store by yourself!
Another design trick I really enjoy is picking out an overarching theme. So if you want a space that's very minimal, like say you want to focus on thin lines, you have artwork that incorporates this across all of the pieces you've collected. Then they all have that common theme, some form of thin line in the composition. Or let's say that you want to add a pop of colour. Orange is very in right now, so I want something that's orange in my home. I can look at picking pieces that complement each other within that colour palette and have that orange element in there. Having a common design theme and sticking to that is something that even staging and decorating pros use to make sure that the art and decor flow together and the home is cohesive.
"You can tell when someone is picking out pieces thinking, oh this looks great and I think people will like this, rather than let me pick out pieces that make sense, that flow with each other, and that reflect who I am and the message I'm trying to send."
Stay tuned for Part 2 of this interview, where the Whitney Leeana founder shares the best places to find stunning artwork without breaking the bank and tackles some of the latest decorating trends. Oversized furniture, are we in or out?
For all your real estate needs, the Raboin Realty experts are here for you. Give us a call at 701-543-2200 or email [email protected].