"Art is a little piece of magic here on earth. Art can calm us, inspire us, or even remind of the places we've been and the people we've loved." For the founder of the Whitney Leeana brand, art has played a big part in making her new home feel like her. Sure, part of it is due to the fact that Whitney is an abstract artist with a love for decor, fashion, and all things aesthetic. But the other reason is that she views this process as a very intentional journey, one without a finish line.
In our first article of this series, we tackled how to make art a functional piece of your home. Now we're making things practical and accessible to anyone. For homeowners and potential buyers looking to add a little whimsy and magic into their homes, here are ways to do it without breaking the bank.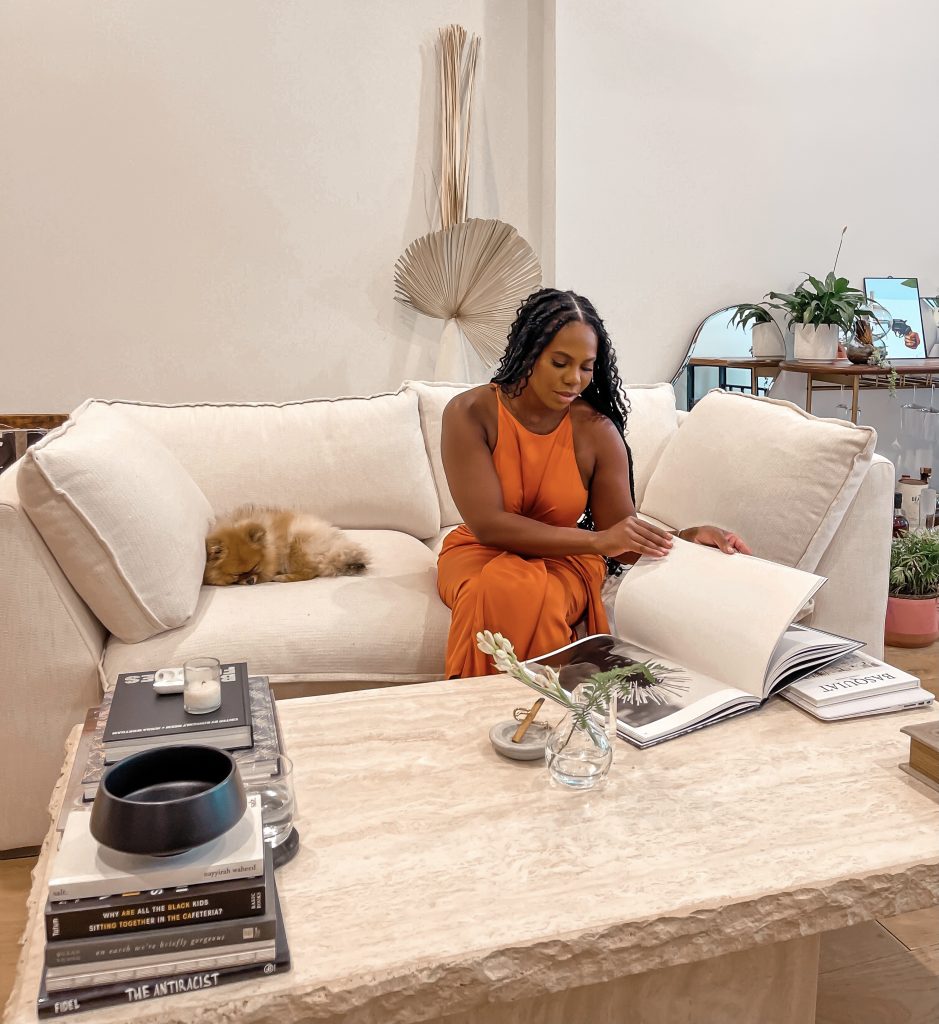 "Having art in the home allows us to escape on tough days, to amplify our joy and gratitude on good ones, and to reflect on our feelings and emotions. It's more than just a "pretty object"—it's something that enhances our lives with purpose and meaning."
There are many misconceptions about art and what it should be in a home. Chief among them is that artwork is expensive or that it should be kept to high-end, opulent homes. These restrictions get an eye roll from Whitney. No matter your type of home, personal style, or budget, she firmly believes that art can thrive in any space.
There must be a workaround for homeowners on a budget looking for beautiful pieces, whether that be furniture or artwork. Right?
Great artwork does not equal expensive artwork. If you find a piece that's somewhat outside of your budget, here's an idea. Contact the artist and ask them for either a print of the work or commission something custom within your budget. Prints are a great way to showcase your artistic eye while on a budget, without sacrificing quality.
Also, I cannot say this enough: I love Etsy! It's great to be able to connect with the person you're buying from, and not just an impersonal website. You could say to a shop owner, "hey, I love this piece but could I commission something slightly different or add something that stands out more?". My coffee table, for example. The artisan on Etsy picked out different slabs of wood and I got to choose the shape of the wood I wanted, where I wanted the legs to go, how I wanted my coffee table to flow… I got to really talk to him and collaborate to make sure the elements I had in my vision came through. Platforms like Etsy are just fantastic for that. And you also get to support small businesses, which is always a plus!
Something else that comes up often is "My home isn't really that fancy, it's not the kind of place that will have big paintings or sculptures."
The beauty of life is that we all have different tastes and we get to express and share that with the people we invite into our homes. Absolutely, there are certain types of art that lend themselves better to certain types of homes and design styles. But that doesn't mean you can't mix and match artwork with your style.
For example if you have a farmhouse-style home, you can easily incorporate modern pieces which then transform Traditional Farmhouse into Modern Farmhouse. You'd focus on clean and sleek lines, warm neutrals for the walls, and Scandinavian landscape art or artwork made from natural materials like wood.
Or maybe wall art—you know, paintings, prints—aren't really your thing. That's OK! One of my favorite ways to bring beauty to drab walls is mirrors. You can go about this in whatever way you choose. For larger walls, I tend to go with either one large mirror that functions as a statement piece or a combination of mirrors of different sizes, shapes, and frames—almost as if I'm making a collage. Mirrors with frames especially add flair in a way that complements paintings really well. And as a bonus, they open up the space and give the illusion of a larger area.
OK, this is perfect. Let's talk about space, especially with the latest trend in home decor being oversized everything.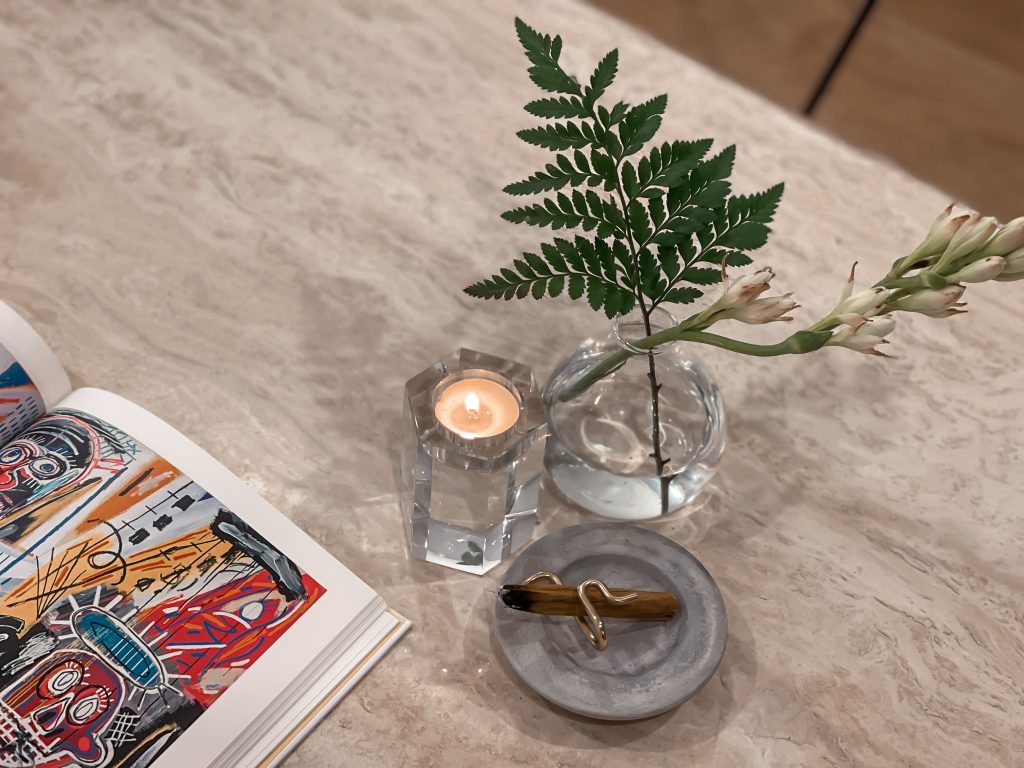 So first of all, statement pieces don't always have to be big. And that's the fun thing! Committing to smaller pieces like end tables, lamps, rugs, and even original serving trays and platters as statement pieces will let you display your artistic flair in a smaller home. The main thing is to get creative! I try to look at every piece that interests me and think of ways I can repurpose it. For example, that old bottle of Casa Azul can be filled with rocks and become a doorstopper. There! You've instantly added an element of surprise and beauty. So you placed that end table besides the sofa in your last home. In your new place, try pairing it with a large floral arrangement and turn it into interesting and unique entryway element!
When it comes to oversized anything, yes they can make for great statement pieces in specific areas. However, it can be tricky depending on the home, especially if you're dealing with less space. What could help is to decide which item in the space you'd like to have as your "statement piece". For example, if your coffee table is the statement piece in the room, choose art that complements it in either color or texture. At the same time, keep the other elements in the space from competing with that piece.
For smaller homes, if you're set on oversized artwork, it's best to select pieces that complement the walls you'll be hanging them on. That way, each piece can still be the main focus without overpowering the space and making it feel smaller. Complementary walls and oversized artwork help create the feeling of a bigger, more open space.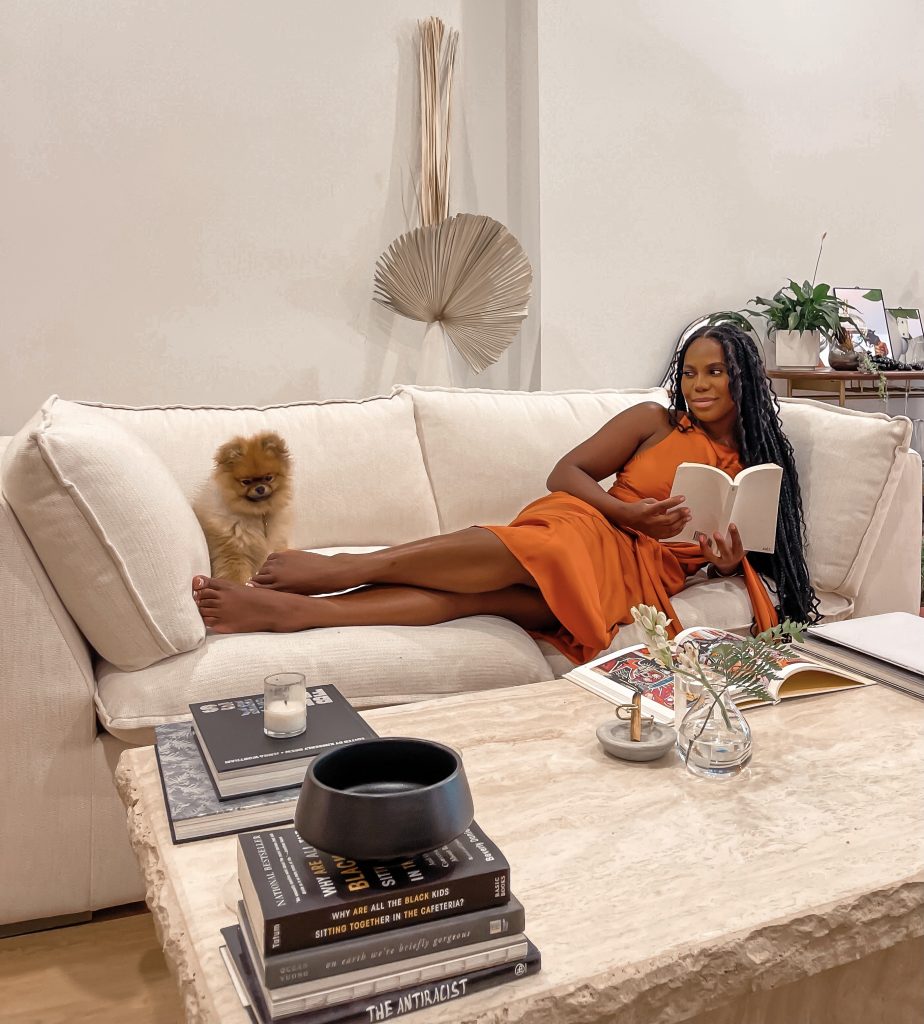 As a painter, Whitney specializes in abstract artwork for personal and commercial spaces including in staging homes for sale. In creating her brand Whitney Leeana, she wanted to bring meaning, empowerment, and inspiration, especially to groups for whom art has historically been less accessible.
Her ultimate advice?
"There is no "right" or "wrong" type of artwork for your home. The sole purpose of art is to make you feel something, anything. Decide how you'd like to feel in each room in your home and select artwork that elicits that feeling."
—
Looking for a new space that will bring you joy? The Raboin Realty experts have got you covered. Give us a call at 701-543-2200 or get in touch with us online.